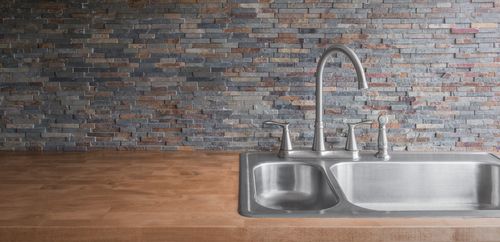 Make A Splash With A New Backsplash!
Make A Splash With a Brand New Backsplash!
While it may seem like a minor design aspect when considering a full kitchen remodel, a backsplash serves as an important aesthetic & focal point in your kitchen, not only because it will stretch the length of your kitchen, but whether you realize it or not, you will be spending a fair amount of time looking at it. From preparing coffee in the morning, to preparing dinner for your family or the holidays; a backsplash serves an important role in the feel of your kitchen. Please read on for some common and not so common of backsplashes and the benefits that they can provide your home!
Ceramic or Porcelain Backsplash
Ceramic or porcelain tile is an excellent choice due to the variety of shapes and styles that can be made, depending on the specific look and feel your are trying to attain: Mix and match colors based on your home décor, or create a rustic look that imitates stone itself! Ceramic or Porcelain is a popular backsplash option as they are resistant to water, and relatively cheap to install, or replace a broken or
chipped piece as wear & tear, and accidents can happen!
Thermoplastic Backsplash
A Thermoplastic backsplash is a polymer-based material. Due to pliability of said material, it can easily be cut with scissors and adhered to your wall with nothing more than double-sided tape. Since most materials usually involve an installation process that consists of measuring, cutting & installing; Thermoplastic is ideal for those that prefer to DIY or are looking for a quick and simple design. Since most of the components involved are plastic based it is not recommended to install over a hot surface such as a stove or cook top, as it will melt!
Glass Backsplash
A Glass backsplash provides a look of sophistication in any modern kitchen, but also helps to increase light in your home. The pristine & clean glass surface will help to add additional light to your kitchen. Glass is an ideal choice for a backsplash if you are looking for a style that will not lose its color or fade over time. Glass is a non-porous material so while it is important to maintain the grout between the
tiles, maintenance of the backsplash itself will be minimal!
Metal Back Splash
What was once designed solely for industrial kitchens, metal backsplashes have made their way into mainstream designs & applications. Metal is a material that can be shaped and styled to any extent through the process of bending, shearing & cutting to create the exact design you envision. Some of the most popular metal designs mimic standard backsplashes by opting for small squared or rectangular tiles. However, the level of customization is only limited by your imagination and design restrictions.
Travertine Tile
Looking for a rustic or "old world" feel in your kitchen? Travertine Tile is an excellent choice as a backsplash or even flooring. Today, we will touch on the benefits of Travertine as a backsplash. Travertine tile is a naturally forming stone that can come in a variety of cuts ranging from 4×4 up through 18×18, though if you are looking for a size that is not "too much" experts recommend going no higher than 12×12. Since Travertine is a stone that can be found in nature, it is "naturally" going to come with a higher price that other options mentioned on this list! Travertine Tile also requires a fair bit of maintenance due to regular wear and tear.
CONTACT THE KITCHEN REMODELING EXPERTS
If you are looking to make a change in your kitchen, large or small, give the experts at Tri-State Kitchens a call, to help plan out your dream kitchen. Our large & diverse team allows us to work on projects of all sizes. We pride ourselves in meeting challenges of the ever-changing detail that drives today's kitchen business, contact us directly on our site for a free quote or call today 603.595.4339!